Enriching the lives of everyone on the planet and making the world more sustainable 
Published on May 16, 2022
A 10-year roadmap for the future of accelerated AI for everyone, everywhere
At Flapmax our mission is to enrich the lives of everyone on the planet and make the world more sustainable. We are building Accelerated AI technology for everyone, everywhere. People and organizations can rely on this technology for every aspect of the technology landscape, from healthcare and education to agriculture and much more. With this is in mind we have moved further and developed an organizational strategy that will enable us to deliver all these in due time. We've outlined plans for four key pillars that support our mission statement and in which we are committing research and development resources. These are pointers that align with our passions, remain top priorities for society, and that will enable us to self-audit while we work towards developing an enabling environment for our customers and partners.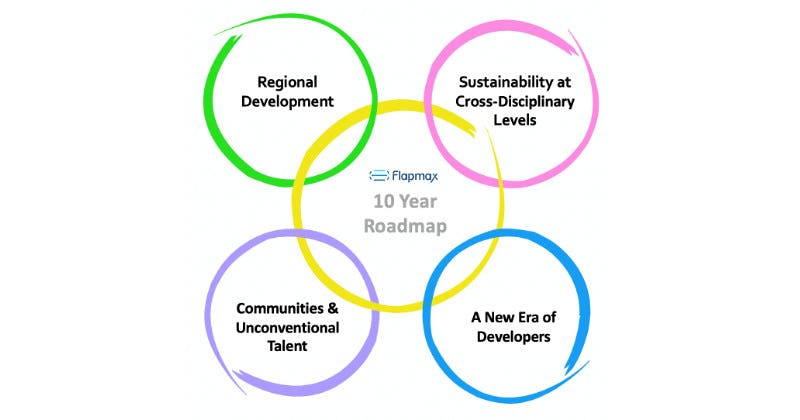 1. Regional Development
We believe that the best-placed strategy is one that is in sync with a particular region's strengths and weaknesses. Coincidentally, today marks the 61st Independence Day anniversary of Nigeria, the most populous country and one of the largest economies in Africa – a continent with a growing population of more than 1.2 billion people. In line with these growth opportunities, Flapmax has developed different solutions that are customized to meet our clientele needs in different regions of the world, including Africa. Africa has for so long had an untapped potential as far as the digital economy is concerned. There are a number of contributing factors including infrastructure, government policies or lack of policies governing the same, poor international investment as well as limited support for startup entrepreneurship.
Flapmax is committed to being part of the change in this narrative and we intend to invest heavily in Africa. With a constantly changing demographic, Africa continues to be a more plausible investment for digital transformations that will propel socioeconomic growth at massive scales. The very young population of Africa presents the world with an unstoppable force that can change e-commerce as well as international trade for good. With these opportunities, improved internet connectivity and electricity access, Africa is poised to be the next giant in international trade. Flapmax as an enabling partner will ensure that there is a direct investment in the region enabling developers to use artificial intelligence as the basis for solution development. This will be the boilerplate for an innovation hub that will be set up in the region to support the locals, potentially improving some of the region's most important sectors, including healthcare, transport, manufacturing, education, trade, commerce, agriculture, tourism and security.
2. Sustainability at Cross-Disciplinary Levels
Sustainability is a global conversation that we must have amongst ourselves. At Flapmax this is an existing goal that we strive to achieve throughout our engagement with our clientele, business partners as well as the entire Flapmax family. As a company, all our solutions are designed to achieve sustainable development. Starting at the computer architecture level, we have dedicated resources to improve on our AI solutions to ensure there are fewer computational needs by rationalizing the size of our AI models. This will in effect reduce the need for complicated hardware hence reduced energy need in the face of climate change.
We will further ensure that our data center operations demonstrate energy-saving efficiencies with on-demand reconfigurability, ensuring different hardware and software are utilized only when needed as well as deployed for the matching workload type. This will further be supplemented by eco-friendly processor architectures that power both emerging and future AI, including but not limited to accessible and equitable AI-powered healthcare and life sciences. These advanced architectures will ensure that the different AI workloads are well suited for a sustainable-oriented world by being both diverse and inclusive (in terms of the data sets), while also reducing e-waste and improving circularity.
3. Communities and Unconventional Talent
While we acknowledge the existence of talent and innovative minds in different regions, for example Africa, we continue to be sensitive to the importance of training and talent search in different regions. As a result, Flapmax will invest heavily in training and apprenticeship especially amongst unconventional talent and people with non-traditional academic background. This will ensure home-grown solutions are developed that solve challenges differently and sustainably around the world. Talent search on the other hand will ensure all persons that are able and willing to work in the different sectors can do so.
The Flapmax AI Academy has been designed to foster an environment for experiential learning by bringing academia and industry closer together. Leveraging this program, we will continue to build and empower both individuals and communities to advance human potential by providing an enabling technology platform for cutting edge research, experiential learning, and community building. We are partnering with universities globally to support student exchange programs and internships and provide an International Engineer experience for all learners, future leaders and global entrepreneurs. This program will commence in spring of 2022 and applications will be open soon.
4. A New Era of Developers
Developing software solutions in a sustainable fashion could seem like a complicated task. This however is not the case as developers simply need to have the interest of society in their minds as they do so. This technically means developing solutions that are community-oriented from all fronts. Flapmax provides said developers with the environment to build on sustainable goals whilst working with energy-saving solutions. The goal is to foster and market an ecosystem of developers that are energy consumption conscious and willing to make a change.
We will therefore provide the said developers with tools, training and materials necessary to build solutions that are customizable to different regions as well as adaptable to future needs sustainably. The different projects at Flapmax are well interconnected to build upon our mission statement. We are committed to improving this strategy on a need basis by investing more into our business operations and in effect invest more into our developers' pool.
At Flapmax we believe in the power of diversity as much as we believe in the sense of community, we will therefore continue building our solutions to meet different clients' requirements all over the world progressively. If you share in this vision and want to be a part of it, then we would like to hear from you. To learn more visit www.flapmax.com.
– Dave