Flapmax Joins Digital Twin Consortium to Help Accelerate the 4th Industrial Revolution – and Beyond 
Published on May 16, 2022
"A digital twin is a virtual representation that serves as the real-time digital counterpart of a physical object or process. Though the concept originated earlier the first practical definition of digital twin originated from NASA in an attempt to improve physical model simulation of spacecraft in 2010." – (Elisa Negri (2017). "A review of the roles of Digital Twin in CPS-based production systems". Procedia Manufacturing. 11: 939–948.)
Flapmax is delighted to announce our membership with the Digital Twin Consortium, as a frontier for Artificial Intelligence and the industrial revolution. Digital Twin Consortium is a collaborative organization driving the innovation of digital twin technology through consistent approaches and open-source development. Through this partnership, our business seeks to accelerate the 4th industrial revolution—and beyond—as far as big data, IoT and AI is concerned.
A digital twin technology is one that creates a virtual replication of a real-world entity, like a plane, manufacturing plant, or supply chain. With some of our main target industries for research and development being Healthcare, Industrial and Smart Cities, we are strategically positioned within the consortium to advance our work and build intelligent "virtual worlds" that will power prescriptive analytics and real-time decision making for these industries. As such joining the consortium is a step forward towards meeting our vision of accelerated computing for everyone.
"We welcome Flapmax to Digital Twin Consortium," said Executive Director, Dr. Richard Soley. "Their expertise in digital twin infrastructure and accelerated computing will be very valuable to our members as we work together to advance digital twin technologies."
At Flapmax, our clientele mainly consists of professionals working on sensitive information including but not limited to image and video analytics, natural language processing as well as Internet of Things.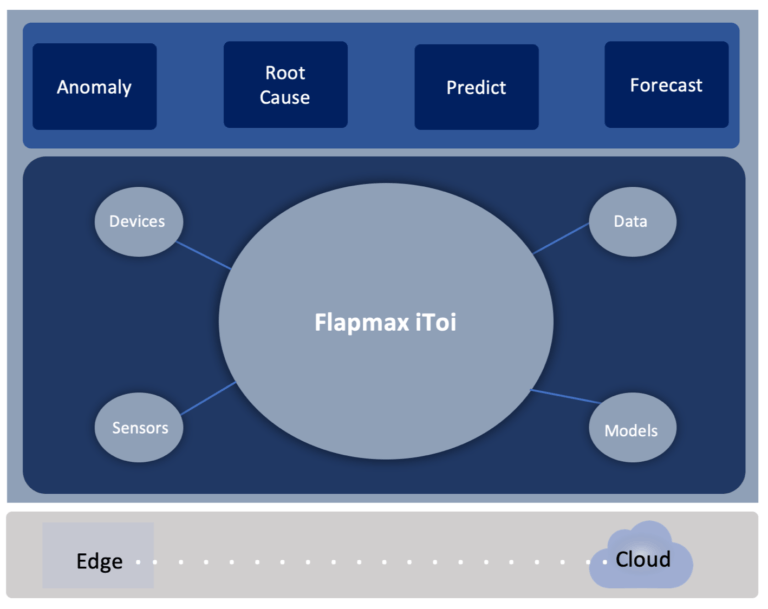 Building intelligent applications for Industry 4.0 with Flapmax Intelligent Things of the Internet (iToi).
To deploy systems that scale efficiently and effectively, we will ensure our client's challenges are addressed in the consortium by further collaborating with both hardware and software vendors in the digital twin ecosystem. These will ensure that our clients are best equipped with digital twin-enabled devices and services while leveraging Flapmax-specific software tools and frameworks.
We welcome all our customers and partners to join us in this new endeavor by participating actively in a joint project between our company and the consortium.